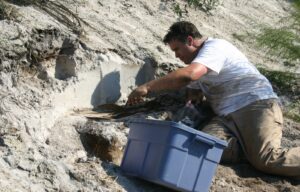 George Howard is an original proponent and widely cited avocational expert on the Younger Dryas Impact Hypothesis. He has studied the climate crashing, civilization forming, species ending comet shower for 25 years.
In 1998 George was contacted by Dr. William Topping and Dr. Richard Firestone, who came across a 1997 essay he posted on the early web concerning the enigmatic "Carolina Bays," and their possible relationship to a global cosmic catastrophe ~12,800 years ago. The introduction resulted in the 2007 paper he co-authored with 23 others in the Proceedings of the National Academy of Sciences providing unambiguous peer-reviewed physical evidence for the Younger Dryas Impact.
In 2015 and 2016 George spearheaded the on-site forensic analysis of a burn layer at Tall el-Hammam in the Jordan River Valley north of the Dead Sea. The paper is Nature's most read scientific publication and identifies the most viable location for biblical Sodom. As a co-author George has accumulated more than 1000 academic citations.
Frustrated in 2010 by the denial of the impact evidence in many quarters, and with nothing to lose as a non-credentialed scientist, George began the Cosmic Tusk.
The Cosmic Tusk seeks to expose the willful ignorance of the scientific community and chronicle the paradigm change as the YDI and other modern impacts become accepted, and our true past becomes known.
In 2015 he co-founded the non-profit 501(c)3 Comet Research Group, where he is a Co-Director with Dr. Ted Bunch and Dr. Allen West. In 2022 he formed Cosmic Tusk Productions, a for-profit enterprise described here.
In addition to collaborating with dozens of credentialed scientists from around the world, George works closely with a merry band of alternative history speculators concerning the Younger Dryas Impact and related matters.
George worked on Capitol Hill in the United States Senate as an aide for six years before founding Restoration Systems in Raleigh, North Carolina in 1998. In December 2022, Restoration Systems was sold and the company remains a national leader in compensatory environmental mitigation banking.
Mr. Howard is an overly-enthusiastic, nerdy, opinionated, regular guy and a guest on many podcasts concerning his obscure interests.  ­­­­­­­­­­­­