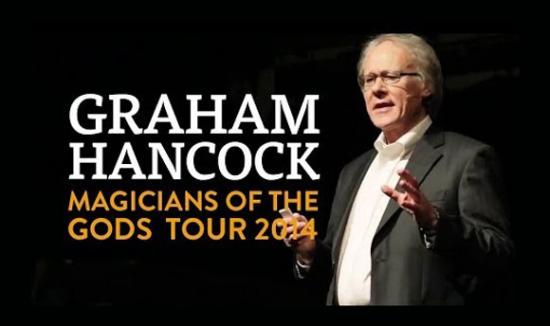 Magicians of the Gods from Amazon
The Tusk has a large library of books related to catastrophism. I love them all. From the laboratory inspired to the ridiculously speculative, the range of publications touching on what happened 12,800 years ago is delightfully enormous. Unfortunately, many of these books have painfully small sales — sometimes in inverse proportion to their attention to the Younger Dryas Boundary event.
But that is changing this year. The world's most popular alternative historian Graham Hancock has written "Magicians of the Gods." By all accounts the book is an attentive study of the Tusk's favorite planetary disaster and its consequences, and gives direct credit to the research of Kennett, West, Bunch and the gang for providing an empirical basis for many years of speculation and inference by others. Hancock is presenting the new publication as a bookend to his enormously popular bestseller twenty years ago: Fingerprints of the Gods.
The YDB subject needs attention of all kinds in order to be widely appreciated and further researched. Thankfully, the science journal press has been (somewhat) busy for nearly a decade publishing point and counter-point to the YDB claims. And mainstream science reporters pay attention from time to time.
Yet surprisingly, the popular and hyper-speculative "New Age" press has lagged behind with scant attention paid to YDB data despite support for many traditionally wild claims. You can find out more about the YDB at Google Scholar or Academia.edu than the "Alternative" section of your local bookstore.
So, love him or scoff, Hancock is a welcome figure to the Tusk. He is a big deal and in our camp. Fingerprints of the Gods sold millions. His fans are everywhere and will soon be curious new experts in the Younger Dryas Boundary phenomena. Perhaps it is juvenile, but I enjoy the thought of the The Bos and his "Requiem" chorus cringing before the wave of attention this book will bring. Our subject is going precisely nowhere but up in the imagination of the public.