Hello, Cosmic Tusk, good to be here and sorry to be AWOL. One good thing about having a blog for thirteen years is that readers, I trust, know that I am not going anywhere and I'm likely expressing my interest in our subjects in other ways.
But there is never an excuse not to blog, so off we go…
____________________________
My first update would concern the Tusk sponsored Cosmic Summit 2023 in Asheville this June. The event sold all 650 tickets by January 28. That's a little over two months after tickets sales began, and over four months before the event. People are coming to Asheville from six continents, 16 countries and 46 US States. The demographics looks like a Coca Cola distribution map. It's a hit everywhere.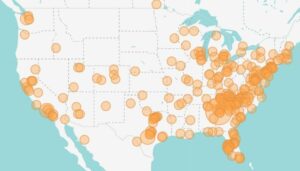 Though I was shocked and thoroughly pleased, the geography of tickets sales were only so surprising. The location of the visitors to this website, the Cosmic Tusk, when mapped historically, have always looked like the United Nations overlain by US beer sales. It appears that humans interested in the Younger Dryas Impact, et al, are not red or blue, know no north or south, and disrespect national boundaries and ethnicities. Our subject may be niche — but it is an equally relevant niche to all 8,000,000,000 of us.
____________________________
My second update rectifies my failure to post the critically important and insightful peer-reviewed paper below from James Lawrence Powell as soon as it was published this year. I was certain I had posted it and had to search my own blog to see I had not. lol. No time for elaboration, but Tusk buddy Dr. James Lawrence Powell exposes longtime Tusk nemesis Mark "The Bos" Boslough as a fraud.
______________________________
Speaking of Tusk buddies, another recent treat was speaking with Dr. Andrew M.T. Moore, one of the world's leading archaeologists, and recent past President of the Archeological Institute of America. He's the guy that identified and published evidence from Syria of the earliest appearance of agriculture. The discussion was immediately fascinating so I asked him if I could hit record. Here are some social media clips of our talk, I'll post the entirety later.
View this post on Instagram
View this post on Instagram
View this post on Instagram
Finally, and most surprisingly, I have been swept into a in-real-life tale of international intrigue concerning a mysterious inventor, Mr. Malcolm Bendall, and the most powerful device in world history. It has been an unexpected but immensely enjoyable time soak. I even got to tag along with Randall to Texas and meet Joe Rogan. Nowadays, however, we are getting down to nut-and-bolts of the discovery, and I encourage everyone to stay tuned.
There is a lot of media surrounding Malcolm, and an entire video series on the way, but I recommend you visit his website immediately and see what you think. I am increasingly impressed. Here are some odds and ends related to my work on cold fusion, a long-time passion of mine entirely absent from this blog — to date.
View this post on Instagram